Solar fan caps, China solar fan baseball caps, bamboo solar fan baseball caps, wholesale solar fan baseball caps.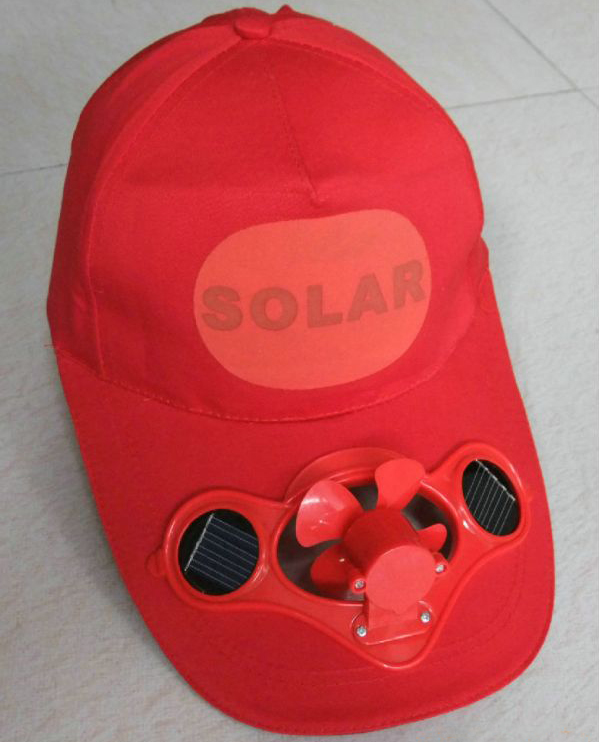 SO-001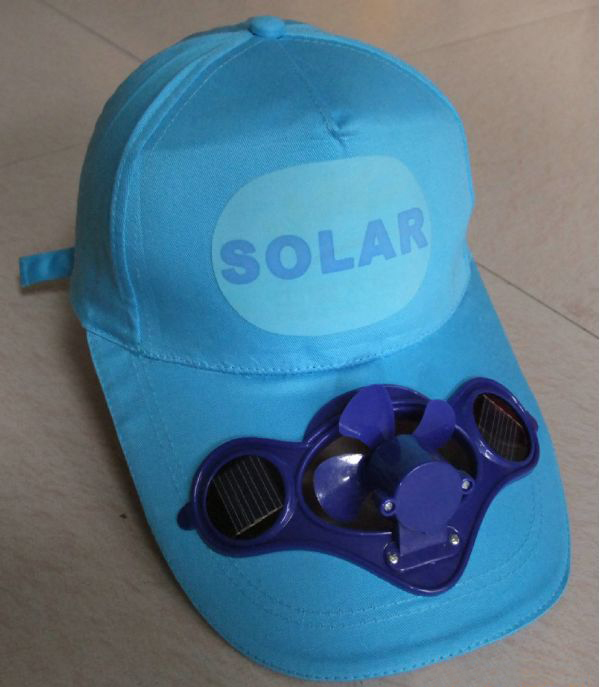 SO-002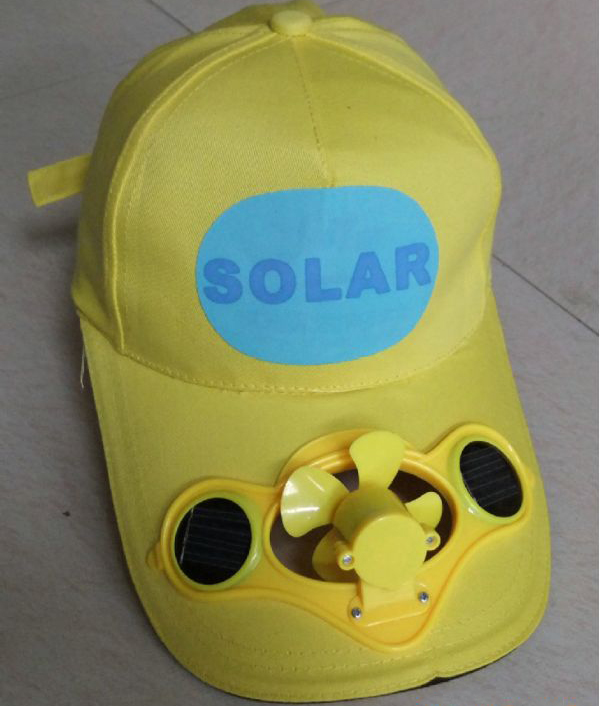 SO-003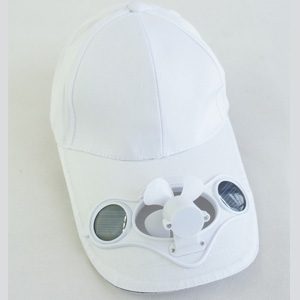 SO-004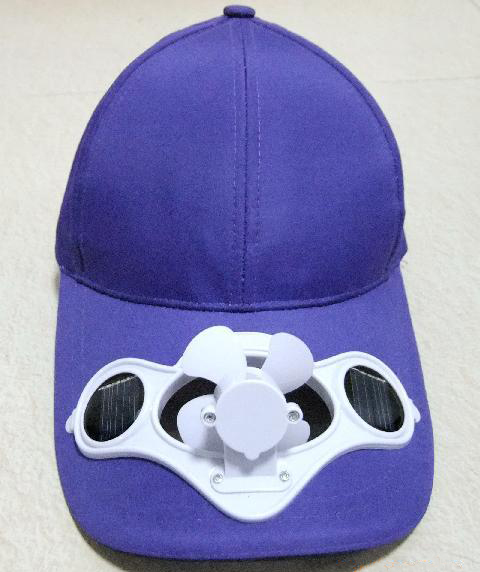 SO-005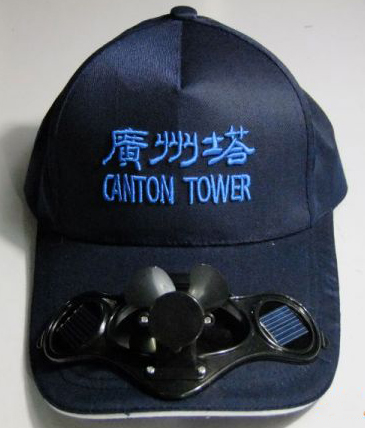 SO-006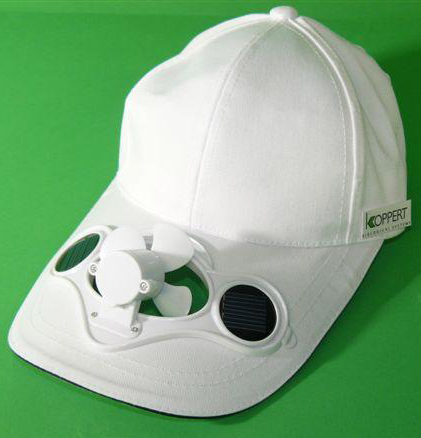 SO-007
SO-008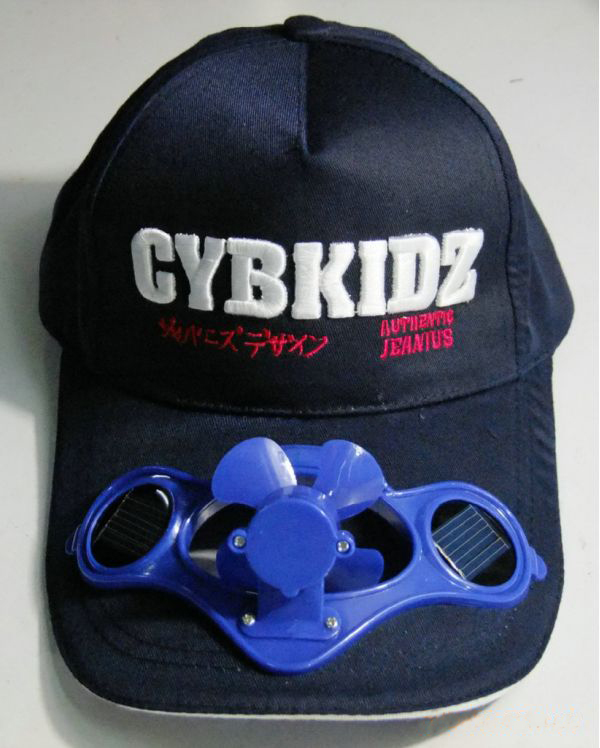 SO-009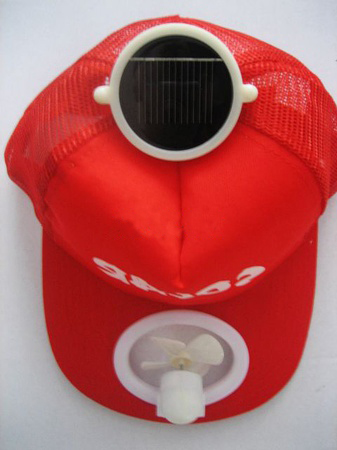 SO-010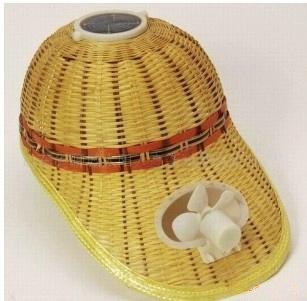 SO-011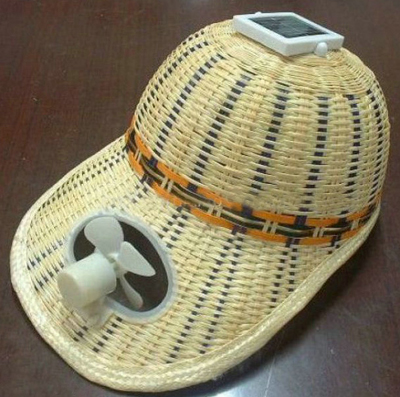 SO-012
We guarantee all the photos were taken by our real samples based.

            
Solar fan baseball cap is a cap shape like baseball cap or other style caps, with a mechanical fan on top or visor of caps, which is powered by solar panels. The solar panels are either mounted on the top of cap or are installed independently on the visor. This Solar fan panels mostly do not require secondary power sources or battery other than solar power, as most of them are used for cooling purposes during day time. Suitable for outdoors activities , eg, gardening, golf and ball games .. the Some types are also used for heating purposes.
There are 2 kinds of solar fan caps in our China cap factory.
One is the normal solar fan cap, this fans can let the sunlight through the solar panel to drive the micro-motor fan breezing, so can keep your face cool and refreshing. But this solar fan panel needs a certain power of sunlight, it maybe be week if it's rainy day or cloudy, which means,it runs the fastest when it is the hottest outside providing savings on air conditioning costs.
The other is the special solar fan cap, which contains all the details of above one, and with the new function that the solar panel can absorb the sunlight and save the power like battery charging, which means, when the sunlight is strong, you can save power on the panel and it will still run fast when it's cloudy.
the panels are all silicon or polysilicon battery, which can last about 5-10 years, quality is really good.
Our China solar fan caps fabric: can be made of various fabrics, such as cotton twill, heavy cotton twill brushed, canvas, denim, corduroy, suede, taslon, wool/acrylic, T/C twill T/C 65/35,washed chino fabric, ottoman, polymesh,
knitted polyester. 100% cotton heavy brushed twill and so on. Some special material like bamboo, you can see above photos as reference. You also need to know, solar fan can be used different types as well on all caps.

China solar fan cap logo applications:
Solar Fan Cap Print:
Flat print or Stereo print. Flat print is the comment print like screen print, heat transferred print, and print your logo like a pictures on the cap. Stereo print is the most popular embroidery for the cap, it can be devided into 2D print and 3D print. This kind of print can make your cap looks more live, vivid and fashion.
Solar Fan Cap Embroidery :
Can be made both flat emboridery and 3D embroidery as normal baseaball caps.
Solar Fan Cap Packing:
24pcs/inner box Outer packing: 144pcs/carton
Carton dimensions: 51 x 46 x 54cm It will be 21,000 pcs in a 20'FCL, 42,000 pcs in a 40'FCL.
Solar fan baseball cap, China solar fan baseball caps description:
We, as always, the travelling between company and customers, to work on the way back and forth. We love to travel fun and this love does not decrease. We are concerned about the question is how to not letting the strong sun hurt our faces, damage to our skin, affect our passion. Now we have to do something, grand recommend our solar energy fan hat, which is a baseball cap that avoid sunlight and has a blazing sun, fully khan, double care for you, caress you skin health! Solar energy fan hat is an efficient use of solar energy fashion cool wind caps. The hat with a circular solar photovoltaic panels, no need a battery or additional processing power, automatically receive the sunlight into electric current, driving the mini fan on the brim to produce cool breeze, to achieve the purpose of the cool, cool, and good! This solar fan baseball cap is the most safe and most environmental protection and energy saving mini air conditioning "nature". It is equipped with high-performance motor, the qualilty is so good and this usage of this baseball cap can reach more than 10 years. The stronger the light heat, its speed faster, the greater the wind you have then. Small and exquisite of blades turns, give a person a kind of fashionable and trendy. This Solar fan baseball cap diameter size can be adjusted according to the neck of buckles.
Solar energy fan hat is for summer outdoor activities such as fishing, hiking, camping, playing golf, outdoor scene photography sketch, watch the game, travel, beach activities and site design. Is also a great gift, be beneficial to prevent solar radiation, to reduce the temperature. In the hot summer wear the solar energy fan hat, let you can also enjoy the filar silk cool when shading, let face especially relaxed, bring a comfortable and fresh world!
The tip from We china cap factory: due to the commodity's own fan is a miniature, wind will be smaller than normal wind, you mustn't take little to compare this solar fan baseball cap with your common electric fans at your home. If the size of a hat with a so big fan as that of your homes, I'm afraid no one dare to wear it. But it is just for fun here only.
Special reminder: the solar energy fan hat must be outdoor in the sunny weather, sunlight can turn (early in the morning and evening sun too partial may not turn), the more light the faster the fan speed running. Indoor, overcast, light is not turn and it runs slowly, but another Solar fan baseball cap that keeps energy solves this problem perfectly.
The best gifts should be the most dear, dearest person should be the most sunlight! Want to let her or him as the most fashionable youth sunshine beauty? Want to no longer worry about the sun in the summer? Let all of us to the top one
1. The solar cell, polycrystalline silicon solar cell;
2. The fabric: cotton yarn card;
3. After the buckles: plastic buckles or any clasps you required.
4. Color: golden yellow and could be any colors you wantted.
Wear this hat, as long as you stand in the sun it will automatically send cool and refreshing; Is fishing, watching the game the best partner.
Product features: want to buckle, energy saving, environmental protection, convenient, beautiful generous is what you want to send friends and best gift for product promotion.
It is to use the heat energy produced , that is the sun panels
More information about China Solar Fan Baseball Cap, please CONTACT US.