Washed baseball caps, China garment washed baseball cap, wholesale washed cotton twill baseball caps, washing baseball caps factory
We guarantee all the images were taken by our real samples based.


China Cap Factory : We can make different kinds of brushed cotton twill baseball caps with your logo or pictures, custom brushed heavy cotton twill baseball caps.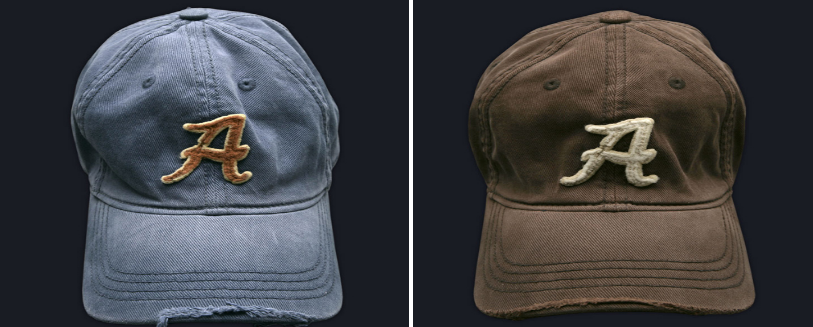 Brushing actually is a kind of processing technology, which is carried on with the fabric through the grinding machine, making the surface of fabric to form a layer of short hairs, any material of the fabric can use this process. Grinding wool fabrics according to its process can be divided into disperse printing grinding wool fabrics, wool fabrics, pigment printing, jacquard wool fabrics, plain dyed grinding wool fabrics etc. Brushing process as a kind of new fabrics, Brushed fabric is more softness and heat preservation performance, both touch and comfort are better than that of the non-brushed fabric,this kind of brushed fabric like wool fabrics, especially suitable for use in winter. Baseball cap that made from this kind of fabric is called brushed baseball caps, this baseball cap is complicated than normal baseball cap, as the fabric should be brushed first, so the price is accrodingly higher alittle than normal ones.
Brushing(Grinding hair) is actually an old technology! In the 70 s, the original processing is mainly brushing on the thick cotton wool, because the thin fabric is not applicable to brushing! As Brushing can reduce fabric fastness,so if Controlling is bad,the fabric is easy to break! With the development of techniques, now the brushed machinery is advanced now, which Can brush a thin fabric as well! Some household supplies like bed sheet, bedding bag fabric with brushing to keep out the cold winter! But if the fabric's too thin, it can't be brushed.Our China cap factory, with 15 years of cap-making experience, had already made and exported this kind of brushed baseball caps to many countries for years, especially exported to US and EU markets.
General Brushed fabric (fine hair) itself is twill fabric, like bed sheet bedding, generally brushed twill is thicker, hand feel is better, not brushed ones will feel fullness slightly worse, but also is not necessarily bad, high and low price of brushed fabric, is also depending on the fabric thickness, but also in the color fastness (good) reactive dye printing, general plain is thinner, twill is thicker, Regarding sanded twill. Although sanded fabric is enough thick, plump, but is still very easy to dust sticky ash, by contrast, pure twill smooth, not easy to touch. You can choose yourself, both have advantages and disadvantages.If you can see the realy fabric, it is better to check for gram weight and use your hand touch it.
Cotton Twill is a kind of common brushed baseball cap fabric, majority of brushed baseball caps are used by this kind of fabric, you can see many brushed cotton twill baseball caps showed anywhere. there are many kinds of brushed cotton twill there, the most common ones are 10*10 brushed cotton twill baseball cap, 7*7 100% brushed cotton twill baseball cap, 16*10 brushed cotton twill baseball cap, 16*12 brushed cotton twill baseball cap, etc. those cotton twill are all thick fabric that very easy for brushing.Because it's thick fabic and with very high grams of weight, so we also called them heavy brushed cotton twill. This kind of heavy brushed cotton twill baseball cap is very durable, fashionable caps and have a very good hand feeling.
As a professinal brushed baseball cap supplier, we sincerely welcome you to join us for any issues of brushed baseball cap business, issues, research even for academic. We are aim for a brushed baseball cap expert!